"If you can master these fun games, you can master the game of baseball"
-High School Baseball Coach-
You get everything you need to start playing right out of the box. Apart from your brand spanking new Gaming Baseball, your pack also includes a smart activity tracker, and a CR2032 battery for long battery life.
Download our Backyard League Mobile App on iOS or Android, and join the game!
No extra fees or subscriptions.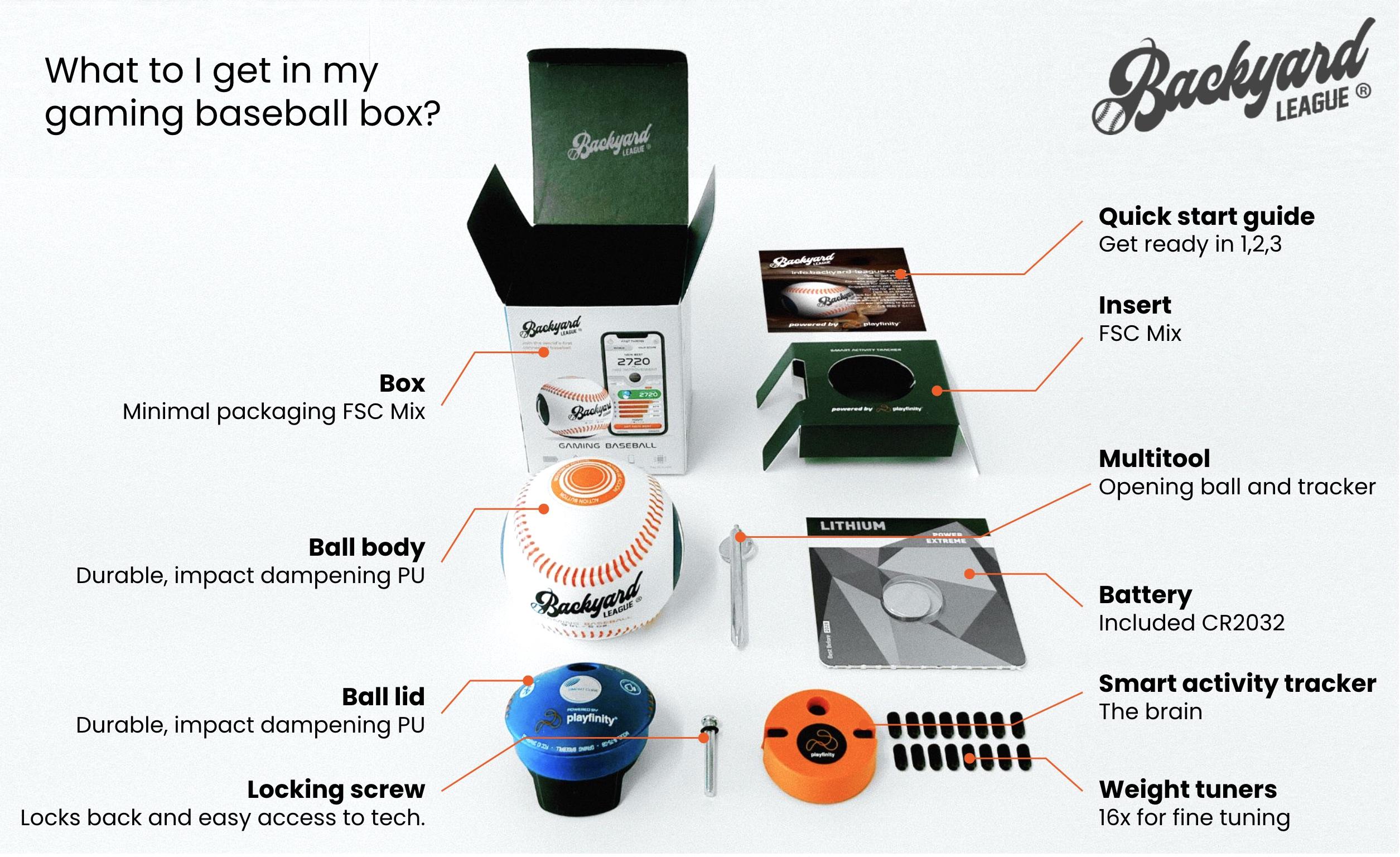 Advanced Bluetooth technology range up to 70 yards

Intuitive setup with one button connection with phone

Future proof. Live software updates from the app.

Long battery life - up to 70 hours or 40,000 throws

Smart power technology with auto power off and wake up by button press

Waterproof, IP67 equivalent

Kid safe, high privacy settings & protections
A FUN WAY TO PLAY AND IMPROVE!
BACKYARD LEAGUE 2.0 LATEST UPDATES
Stay tuned for more updates!
And remember! Always update the latest version of your Backyard League App.
"The coach focuses on areas that need improvement rather than just what you're already good at. And the best part is how incredible fun it is!"
Our Gaming Baseball
on KTLA News!
Check out this video, where dad and coach Scott Paskoff talks about how Playfinity Gaming Baseball engages kids by turning practice into a fun game!
THE BALL THAT TRACKS YOUR PROGRESS WHILE YOU HAVE FUN
"I love how it feels like
a regular baseball"
What people say about our Gaming Baseball
★ ★ ★ ★ ★
Great outdoor fun! App required for speed to display
"I got this for a friend's little brother and he LOVES it! It's a great outdoor toy for him and his brothers to use"
Lucky - Verified Buyer
★ ★ ★ ★ ★
Nice that there are no subscription fees. Great for training and all-around fun.
"…Great for younger kids to like the idea of collecting points and making it more of a game as well. It's great that there are no subscription fees."
G. Hearn - Verified Buyer
© Copyright. All right reserved.